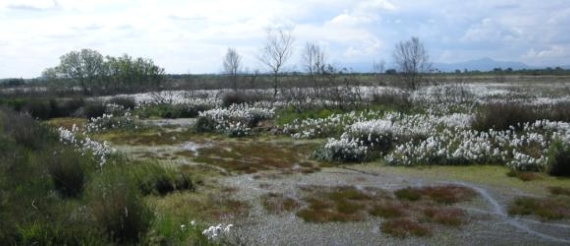 Lowland moss and mire can become dry beneath the surface, which results in loss of a fragile habitat. Whatever the cause of the habitat decline, DMS have a portfolio of techniques and experience to re-wet the affected areas so that the moss and associated invertebrates can quickly re-establish. Their specialist excavators are specially adapted for working on very soft ground and enable the operators to level areas and build bunding systems to suit the site and the project's objectives
The creation of peat bunds to create level and enclosed areas is one technique that increases water retention over an area. The bunds can be arranged in various ways, for example, to create a number of different levels, or stepped to retain water on the top side of a re-profiled peat edge.
Bunding systems have limited application to sloped ground, however, DMS have other techniques involving interlocking scrapes that have the effect of increasing water retention even on sloped ground.
The addition of mulch to the newly wetted areas and of matting to bund assists with a quick establishment of the desired mosses and other species.
Glasson Moss Restoration Project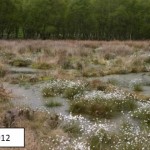 Dinsdale Moorland has undertaken a restoration project on The Glasson Moss SSSI area, part of the South Solway Mosses. The project consisted of restoration of cut over degraded peat surface and cut peat faces covering 1.3ha.
You can read the full details of the restoration work by downloading our project PDF…